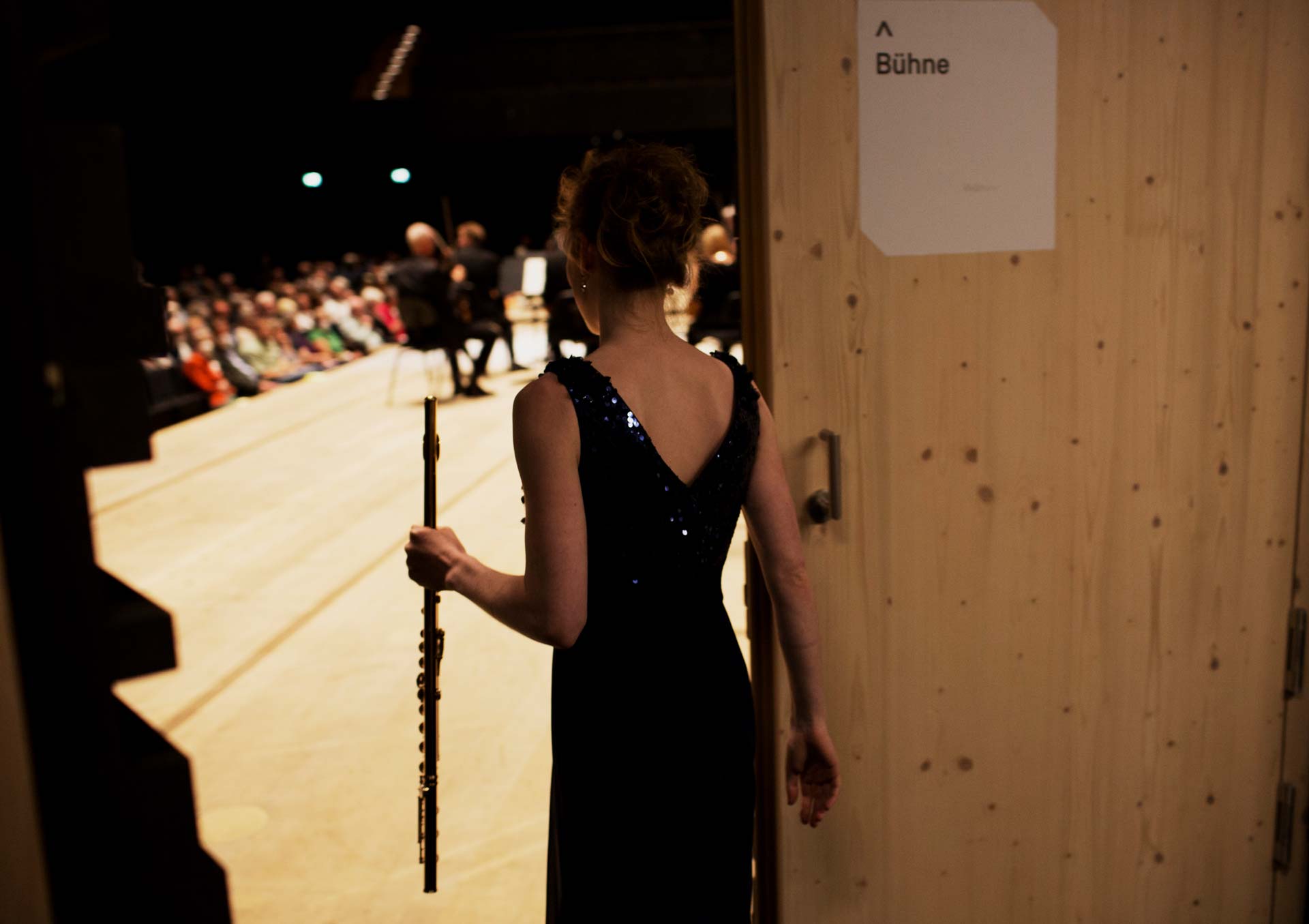 Concert Engagements
In recent years Leonie Bumüller has given concerts in major concert halls across Germany, including the Berlin Philharmonie, the Elbphilharmonie Hamburg, the Isarphilharmonie München and the Tonhalle Düsseldorf. She has also been invited to join orchestras on numerous tours both within Europe as well as further afield, in Asia. Recently she appeared as a soloist with the Sinfonieorchester des Bayrischen Rundfunks, Münchner Rundfunkorchester and Münchener Kammerorchester. Leonie Bumüller has worked with renowned conductors, such as Daniel Barenboim, Zubin Metha, Simone Young, Joshua Weilerstein and Christoph Eschenbach. In addition to her varied career as a performer, she has been invited to give masterclasses and mentor young students.
Orchestral Career
Before completing her bachelor degree in 2016, Leonie Bumüller was awarded a place at the prestigious orchestral academy of the Staatskapelle Berlin. Only a year afterwards she became the second flute and piccolo flutist in the NDR Radiophilharmonie Hannover. In addition to her work in the Radiophilharmonie she guests as solo flute in orchestras such as the Gürzenich-Orchester Köln, Staatskapelle Weimar and Noord Nederlands Orkest, and furthermore she is a regular guest in the Niedersächsisches Staatsorchester Hannover, Rundfunksinfonie-Orchester Berlin and MDR Sinfonieorchester Leipzig. In November 2023 she made her debut with the Berliner Philharmoniker.
Competition Success
Her greatest competition success was in 2022, when she was awarded both the 3rd prize and the audience prize at the prestigious 71st ARD International Music Competition in Munich. In addition Leonie Bumüller was the winner of the 1st prize at the 4th International Flute Competition "Severino Gazzelloni" in Italy and was awarded the Special Prize at the International "Theobald Böhm" Flute Competition in Munich.
Musical Education
As a young child Leonie Bumüller was fascinated by the rich colours of the sound that the flute produced and was moved by the multifaceted and deeply emotional power of the music composed for the instrument. At the age of seven she was inspired to take flute lessons, being taught at first by Manfred Maier at the Jugend Musikschule in Tuttlingen, her home town in Germany, until she began her studies at music college. Since 2006 she has been mentored by, and has received addition coaching from Gunhild Ott. In 2013 Leonie Bumüller began her undergraduate studies under Andrea Lieberknecht at the Hochschule für Musik und Theater München. As an erasmus student she attended to the Conservatoire National Supérieur de Musique et de Danse de Paris in 2016 for a year to study with Philippe Bernold. After successfully completing in 2019 her bachelor degree back in Germany, she began her masters degree at the Universtität Mozarteum Salzburg with Michael Martin Kofler, graduating in the summer of 2022 with distinction. She received further artistic support from Sébastian Jacot, Philippe Boucly, Christina Fassbender, Karl-Heinz Schütz, Gaby Pas-Van Riet and Jean-Claude Gérard. Having discovered her interest and enthusiasm for the piccolo flute at the age of 13, she received specialist tuition from Gudrun Hinze, Natalie Schwaabe and Joseph Singer.